Podio vs. Tape vs. InfoLobby
An objective comparison.
Although Podio, Tape, and InfoLobby share a lot of similarities, there are some subtle differences you should be aware of. Here we break down some of the main features to help you decide which product would be the best fit for your business.
We tried to make this comparison as objective as possible, and all parties were involved in the collaboration thereof.
Podio
Tape
InfoLobby
Years in Business
13+
3+
<1
Pricing
Plus: $14/user
Premium: $24/user

You require a Premium plan to take advantage of the advanced workflows. All users must be on the same price tier.
Basic: $9/user
Premium: $24/user

You require a Premium plan to take advantage of the advanced workflows. All users must be on the same price tier.
$10/User
$49/Admin

Not all users have to be on the same tier. Only admins can create tables and workflows.
External users / Guests
Free Guests, but they cannot create items.
Guests have full access, but are limited (4 free guests per paid licence)
Guests have full access but require paid licence (own account).
Limits
500k items/app
5M workflow actions
500k items/app
5M workflow actions
Unlimited
Large Data
⨯
max 500k items / app
⨯
max 500k items / app
✓
Unlimited records / table
Data Views
★★★★
Table, Badge, Kanban, Calendar, Activity
★★★
Table, List, Kanban
Calendar and Gantt on the roadmap.
★★
Tables only.
Kanban and Calendar on the roadmap.
Split Views
✓
Yes
✓
Yes
⨯
No
Sub-Tables
⨯
No
⨯
No
✓
Yes
Item templates
⨯
No
✓
Yes
⨯
No
Report Widgets
✓
Yes
⧗
Future Addition
✓
Yes
Basic Tasks
✓
Yes
✓
Yes – plus checklist fields
⨯
No – need to use a table for this
Calendar
✓
Yes
✓
Yes
⨯
No – need to use a table for this
Chat
✓
Yes
✓
Yes
⨯
No
@Mentions
✓
Yes
✓
Yes
✓
Yes
App Market
✓
Yes
✓
Yes
✓
Yes
User Permission Levels
★★★
Space level plus sharing at App level and Item level
★★★★
Robust permission Groups; Workspace, App and Record Permissions
★★★
Space, Table, and Field level
Web Forms
✓
Yes
⧗
Future Addition
✓
Yes
Publicly Embeddable Views
-
Limited cached tables via PWA
✓
Yes – Summary only
✓
Yes – optional click through to detail
Email Integration
★★
Limited ability to email in.
Transactional emails through PWA.
★★
Limited ability to email in.
★★★★
Limited ability to email in.
Support for transactional emails on records is baked in.
Mobile App
✓
Dedicated mobile app with limited use. Web app does not work well on small devices.
✓
Dedicated mobile app with limited use (no record creation and edit). Web app does not work well on small devices.
✓
Not required.
Web app works equally well on small devices.
Calculation Fields
★★★★
Strong calculations using JavaScript that can reference related items.
★★★★
Strong calculations using modern JavaScript that can reference related items.
★★
Only simple SQL calculations.
Calculation Reliability
★★★
Asynchronous processing sometimes presents delays under load and can occasionally fail.
★★★★
Asynchronous processing could present account scoped delays under load and can potentially fail.
★★★★★
Calculations are performed in real-time as part of each SQL query. Always correct.
Workflow Automation
★★★
Strong workflow abilities through PWA.

PWA is a separate service and does not have direct access to Podio, resulting in intermittent errors.
★★★★
Strong workflow capabilities baked in.
★★★★
Strong workflow capabilities baked in.
Export Data
★★
Export as Excel sheets only. No comments or files included.
★★★
Export as Excel sheets or CSV. Comments, subtasks and files included.
★★★★
Export Tables as Excel sheets or CSV & Raw export of all data in JSON format, including all comments, emails, and files.
Public API
✓
Yes
✓
Yes
✓
Yes
Portal Builders
✓
ProcFu
⨯
No
✓
ProcFu
Integrations
Google Drive, ShareFile, RIghtSignature, O365, Box, DropBox
ShareFile, RightSignature, ClickSend, and SMTP supported in automations
MS Teams
SMTP in automations
SMTP
Any and all oAuth2 compliant APIs (eg: Zoom, Xero, QuickBooks, Asana, Podio, MS Teams, MailChimp, DocuSign, Todoist, Google, etc)
Workflow Code
PWA uses PHP in a sandboxed environment.

Each action can only call whitelisted PHP functions.
Uses Javascript.

Can call all JavaScript (synchronous and asyncronous) as well as internal Tape functions and methods.
Uses LobbyScript - a custom DSL very similar to PHP.

Can call only included functions and some specialized extended functions
Data Access Speed
★★★★
Via Middleware.
★★★★
Via Middleware.
★★★★★
Direct SQL queries.
Infrastructure
All items are in a single database.

No horizontal scaling possible.
All Items and Orgs are spread over database clusters.

Can easily provision new clusters as required.
Each table is a physical SQL table. Orgs are spread over clusters.

Can easily provision new clusters as required.
Bring your Own Database
⨯
No
⨯
No
⧗
Future Addition will allow you to connect your own on-prem MySQL database.
Website
podio.com
get.tapeapp.com
infolobby.com
* "Podio" is a registered trademark and used in this document purely to identify the product under Nominative Fair Use.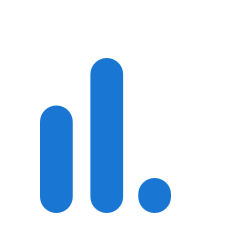 Need more?
We've got you covered.
Everything you need to manage your business data.
If you're tired of old, bloated, slow, & frustrating data software – InfoLobby is just what you need. Give it a try and experience the speed, security, and confidence perfect for your day–to–day operations.
Benefits
Lightning Fast
Always Accessible
Any Device
No Bloat
Secure
Collaboration
Easy – Advanced
Web Based
Use–based Pricing
Pre–made Apps
App Market
Features
Global Search
Table Filters
Icon & Color Pickers
Embeddable Forms
Keyboard Shortcuts
Users Mentions
Email Reminders
Member Access
Calendar Feeds
Invites
Business & Users
Multiple Accounts
∞ Workspaces
Unlimited Tables
Granular permissions
Guest access
Comments
Notifications
Email Updates
User Activity List
Record Edit History
Advanced
Robust API
Calculation Fields
Custom Flows
Embeddable Forms
Custom Code
SQL Formulas
Custom Views
Data Filters
Relationship Fields
SMTP integration
Webhooks
Import / Export
…& more

Get all of the above
…& so much more
"Finally Software that doesn't suck."
"It was simple to get going, now we are discovering the power tools."
"I actually like using this type of software for a change"
"I didn't expect to make something right away… but it works."
"So glad that I jumped ship from <other software>"
"Can't complain."
"So good, I am using it twice."
"I made my grandmas cookbook with this software."
"Less work – more play thanks to InfoLobby"